The STV Children's Appeal has committed to a 10th year of supporting YPI, bringing its total support to £300,000.
The Appeal funds 10 grants each year for charities supporting children and young people impacted by poverty.
YPI spoke to some of the organisations who have benefited from the funding to learn about the impact of the funds and how they have been supporting young people.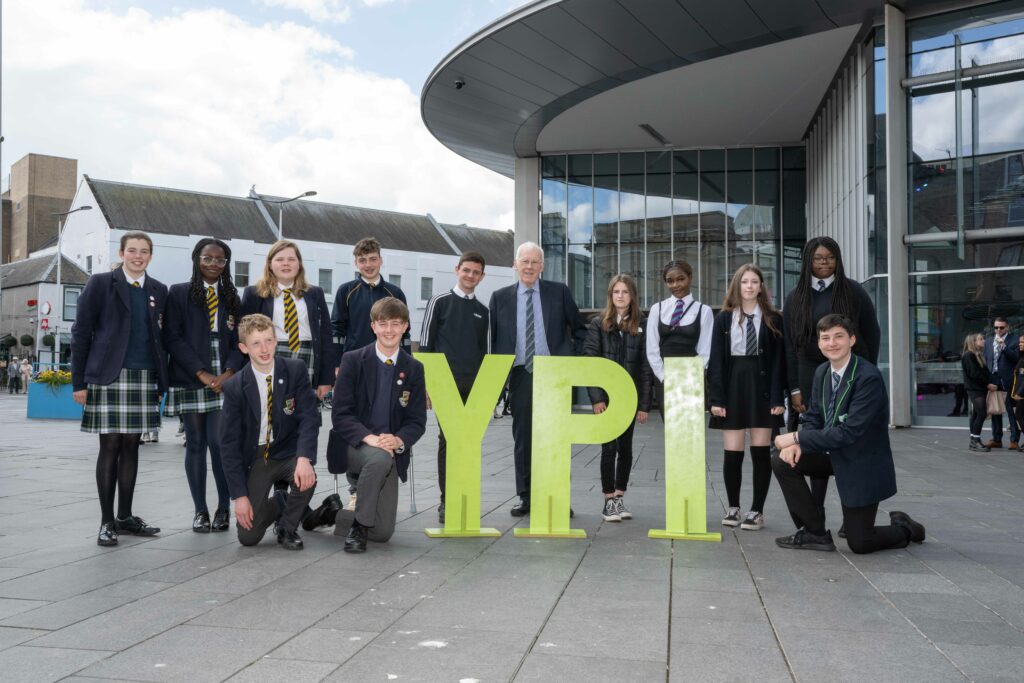 Sharon Thomas, Lighthouse Perth:
"As a crisis mental health charity, we cover all high schools in Perth & Kinross, helping support pupils who are struggling with self-harming behaviours and/or suicide ideation. Having contact with all schools has meant that we have had a lot of groups choosing to support Lighthouse Perth as part of their YPI project and this alone has helped us raise the profile of youth mental health and also tackle the stigma around mental health and get young people talking about it.
"As a small local charity, this money has been greatly appreciated and allowed us to start up our Mental Health Ambassador Programme (in school peer to peer support) which is now being rolled out across all our schools and we have already saw a potential life saved through this programme – you cannot put a price on this valuable resource!!
"Massive thank you to everyone at the Wood Foundation, STV Children's Appeal and most of all, all the kids who have championed our charity – they are all winners to us as they are raising our profile and helping us safe young lives."
Fiona Martin, The Sunshine Box:
YPI was an empowering, enriching, exciting experience for Milly, Ruthee and The Sunshine Box from start to finish. We all loved it. Winning was the icing on the cake.
"Milly had benefitted from The Sunshine Box, so she had amazing insight and experience of how it benefits babies, children and young people during treatment. Their enthusiasm and dedication were outstanding, and we were so privileged to be their chosen charity.
"Winning the funds enabled us to buy lots of new toys, books, and games. We also provided two hampers to adolescents who had been in Ward 29 Ninewells for a long period of time, as well as pizza.
"This experience was fantastic journey and an amazing experience for young people. Milly and Ruthee achieved their goals, and we are so proud of them both."
David Gibson, S.M.I.L.E Counselling:
"The YPI funds are a massive part in our charities continuation of offering free counselling to children and young people in West Lothian. We enjoy engaging in the process of visiting schools and supporting their presentations and bids for YPI funding. Without their enthusiasm to engage in the process and to try and win the funds, then we would not be able to offer as much counselling to children and young people.
"£3000 to us is the equivalent to over 150 hours of counselling. That is supporting over 10 individuals for up to three months' worth of counselling. All funds are put back into the young people and to the heartbeat of our charity which is to provide the free counselling. It also allows us to ensure our waiting list is as low as possible and we are able to offer counselling sessions to young people when they need it, not in months or even a year's time. That is the heart of what we want to deliver – counselling when it is needed and building brighter futures for our children and young people of West Lothian.
Laura Stronach, Shetland Women's Aid:
"Shetland Women's Aid deeply values the funding received from the YPI, funded by the STV Children's Appeal. Not only that, but we value the connections we have with the schools who take part and the children who pick us as their charity. We love being involved in the planning for the presentations and believe that with their presentations they can raise awareness and deliver lifesaving information and advice to their whole school or class on our behalf. That said we feel like we have won when they pick us.
"We work with the groups to identify what we can buy for our refuge, and it makes a huge difference.
"We want to thank the YPI and STV Children's Appeal for making this all possible in our community and for our service users. It is deeply appreciated."
Caitlin Meagher, Teapot Trust:
"Teapot Trust was delighted with the YPI winners from Armadale Academy. It was inspiring to see their enthusiasm to learn more and raise awareness of our work in their community. Thanks to YPI and the STV Children's Appeal for giving young people an opportunity to learn, grow, and make a real difference in other's lives."

Elaine Sergeant, Glasgow Care Foundation:

"The Wood Foundation YPI grants, supported by the STV Children's Appeal, have been invaluable to Glasgow Care Foundation, established in 1874. We are a small Glasgow charity who help families and individuals living in poverty. As we do not receive government funding, grants such as this simply mean we can support more people. We help more than 1000 families a year, our applications for help are ever increasing due to the economic climate and we employ only two staff to keep costs to a minimum. Every penny received goes directly to people in real need."
Samantha Redding, Scott Martin Foundation:
"As a charity and a family, we believe that had Scott received a better standard of care and immediate support from CAMHS he would still be here, so we now work hard to try and ensure that support is always available for our local kids and their families who experience the things Scott was.

"Since becoming a charity just over a year ago we have supported close to 150 children.

"The money that the kids won from the YPI was an amazing contribution and has gone a long long way in helping us to ensure that support is easily accessible and always available straight away. When someone is in crisis, placing them on an 18-month waiting list just isn't good enough and really can be the difference between life and death. If someone is brave enough to reach out to us for support, then we support them.

"These funds are so important to our charity. Without donations and support such as this we would not be able to do the work we do in the local community. "