Over 240,000 children live in poverty across Scotland, which is around 1 in 4 children. Over a quarter of children across Scotland are worried about their families not having enough money.
The last few years have been incredibly hard on young people. The pandemic has had a serious social impact on the wellbeing of children and young people, particularly those living in poverty. This includes "developmental delays seen in the very youngest because of increased social isolation, worsening mental health, a fall in educational attainment, and young people's increasing concerns about their job prospects."
The current cost-of-living crisis has pushed struggling families deeper into poverty.
61% of low-income families in Scotland cannot afford to make regular savings of as little as £10 a month. The Resolution Foundation indicates child poverty in Scotland will increase to 29% by 2023-2024, which will be the highest rate in over twenty years. Please visit Child Poverty Action Group (CPAG) to read more.
At the STV Children's Appeal, we simply do not view this as the acceptable reality for so many children. We believe every child deserves a chance to flourish and live life without the stress that may prevent them from reaching their full potential.
We are committed to supporting children and young people by funding hundreds of different charities across Scotland. In 2022, we funded 10 large and 229 small projects that provide essential services, such as food, clothing, mental health support and training & development opportunities. Every single penny we raise stays here in Scotland.
Where the STV Children's Appeal has helped
Since 2011, we have made thousands of awards to big and small projects in each of Scotland's 32 local authority areas thanks to people who have donated or fundraised for the Appeal.
Download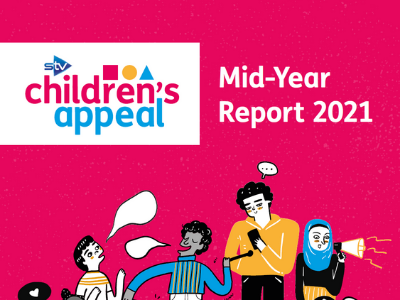 Discover More