The statistics are frightening.
One in four children are living in poverty in Scotland. That works out at 220,000 children and young people living below the breadline in cities, towns and villages across all of the country's 32 local authorities.
Poverty defined
It is a term that is used but not everyone knows what it actually means.
People are considered as living in poverty if they live in households with less than 60% of average household income.
This means that a lone parent family with two children (aged between 5 and 14) are defined as living in poverty if they are living on less than £373 per week.
A couple with two children (aged between five and 14) are defined as living in poverty if they are living on less than £475 a week.
This is simply not enough when having to cover costs such as food bills, household goods, transport and fuel costs. Other costs such as school trips, family breaks and leisure activities also much be taken into consideration.
Child poverty is not simply a consequence of long term unemployment. Figures from the Department for Work and Pensions' Households Below Average Income Report show that 61% of child poverty occurs in households where at least one adult is working.
A report by Think-Tank Demos indicates the full extent of the hardship experienced in Scotland across seven areas (low income, overcrowding, worklessness, ill health, no educational qualifications, mental health problems and poor neighborhood).
Where the STV Children's Appeal has helped
Since 2011, we have made thousands of awards to big and small projects in each of Scotland's 32 local authority areas thanks to people who have donated or fundraised for the Appeal.
Download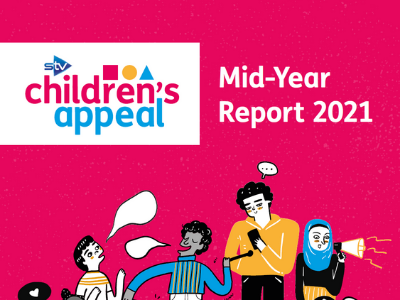 Discover More