The Covid-19 pandemic has had a catastrophic effect on fundraising for charities across the UK. As events have been cancelled, so too has the income they would have generated meaning the most vulnerable in our society will struggle all the more.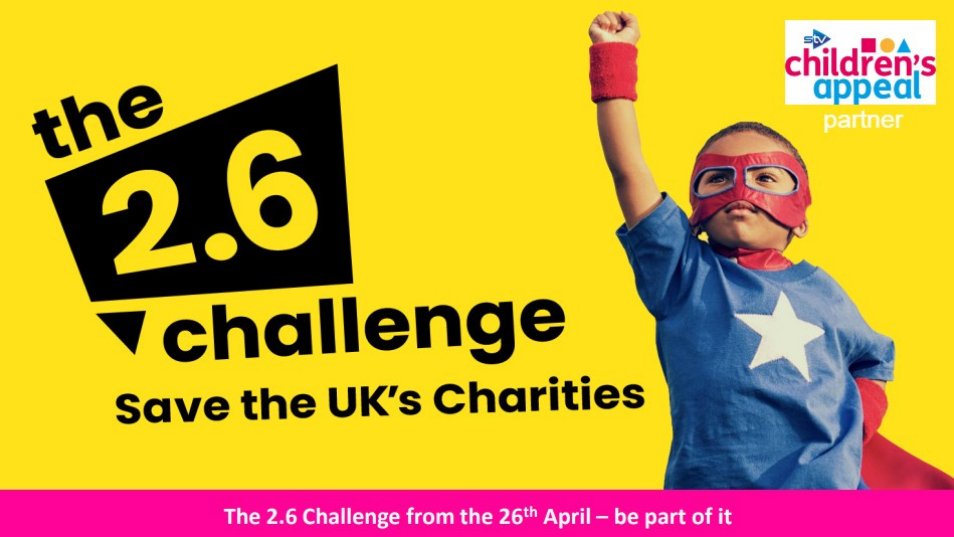 For STV Children's Appeal, events like The Kiltwalk are significant – the money raised through these events mean we can disburse funds to hundreds of charities across Scotland who help children and their families fight poverty.
In response, the organisers of the biggest mass participation sports events across the country have come together to create a new campaign to raise vital funds to help our fundraising and save the UK's charities.
The campaign, The 2.6 Challenge, will launch on Sunday 26 April 2020 – what should have been the date of the Glasgow Kiltwalk and the 40th London Marathon, the world's biggest one day annual fundraising event, which raised £66.4 million for charities in 2019. The challenge will last for a week.
The 2.6 Challenge is open to anyone of any age – the only requirement is that the activity must follow the Government guidelines on exercise and social distancing and remember to stay local.
Get creative and get fundraising
From Sunday 26 April 2020, challengers are being asked to dream up an activity based around the numbers 2.6 or 26 and fundraise by donating on our JustGiving page.
The 2.6 Challenge can be anything that works for you," says Nick Rusling, Co-Chair of the Mass Participation Sports Organisers group (MSO) and CEO of Human Race. "You can run or walk 2.6 miles for 26 minutes. You could do the same in your home or garden, go up and down the stairs 26 times, juggle for 2.6 minutes, do a 26 minute exercise class or get 26 people on a video call and do a 26 minute workout – anything you like. We want people to get active, have fun and raise money to help Save the UK's Charities by giving money or raising funds for the charity close to your heart."
"Having been really disappointed at so many of our events needing to be cancelled, we're really excited about the opportunities the 2.6 Challenge provides" explains Natalie Wright, STV Appeal Manager. "It looks set to be a lot of fun and something everyone can participate in, but crucially, it has the potential to raise vital funds and by taking part for the STV Children's Appeal, that means children living in poverty can avoid being pushed deeper into poverty".
Getting involved is simple
Think of your 2.6 Challenge – something sporty, arty, challenging, creative- anything you like involving the number 2.6 or 26
Setup your JustGiving page for STV Children's Appeal
Share your page with your friends, family and colleagues and ask them to donate or sponsor you.
Imagine if everyone taking part raised just £26 what a difference that would make!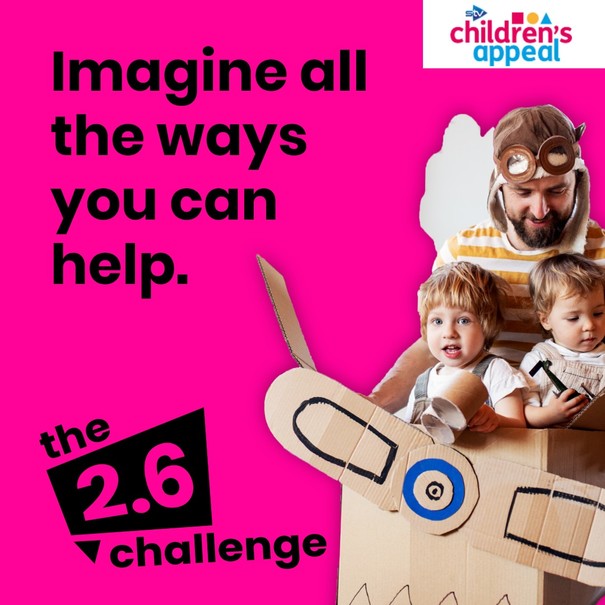 Get your workplace involved
It's a great way to keep your team's spirits high, especially for those working from home: it's fun, it brings people together (virtually) and it has a shared purpose – raising much needed funds for children in Scotland living in poverty and being affected by the coronavirus.
1. Get your team to come up with their ideas or stick with these trusted favourites:
26 minute lunchtime walk or run
26 press-ups/yoga poses/stair climbs
26 question quiz using Zoom or Kahoot (26 rounds might lead to a drop in team spirits!)
Donate £2.60 that would have been spent on commuting, lunch or that morning latte
Or if it really needs to be work-related, find 26 new business leads and the company will donate £260 for every lead.
2. Setup your JustGiving page for STV Children's Appeal and share it on your social media pages and staff communications.
3. Get competitive See who in your team can raise the most, or challenge other teams in your organisation to raise more than your team.