Marking a year since Scotland went into lockdown, STV Children's Appeal has revealed that during 2020 it committed a total of over £3.6m to tackling the impacts of child poverty. It made more than 860 awards to children's and young people's projects across every Local Authority area in Scotland.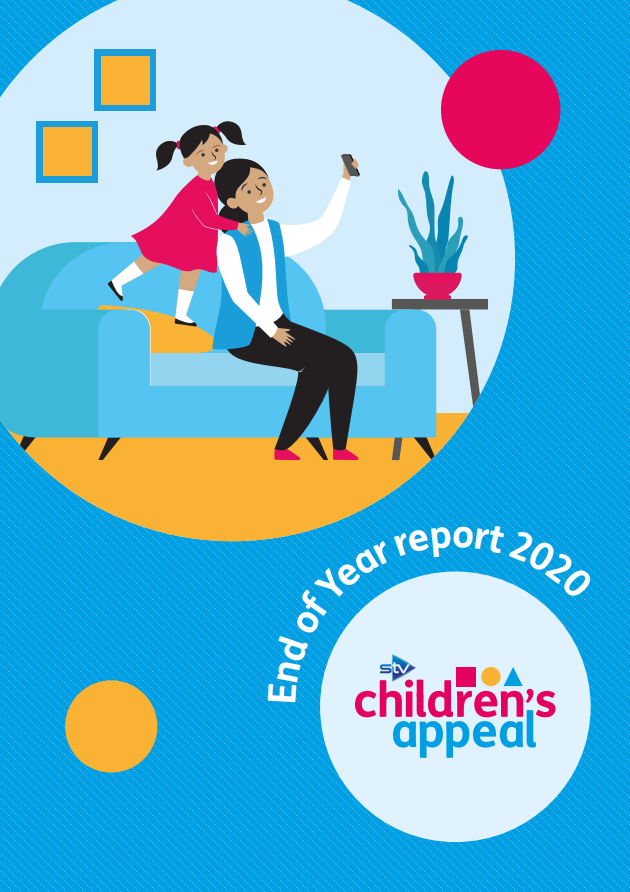 Funding to Large Projects impacted on just over 2,500 families whilst our Small Projects helped the Appeal to reach many, many more at a time when those living in poverty faced the disproportionately negative impact of COVID-19.
In our 2020 Annual Report published today, Chair Baroness Ford writes:
"I want to recognise the immense challenge we and our awardees have, and are still facing, in light of COVID-19. Many Charities may not survive this pandemic, many families will face poverty for the first time in their lives, the compound nature of stress upon further stress will fracture vulnerable families and we know mental ill health is rapidly becoming the new pandemic.
"The findings of this work, although important, should never mask the harrowing reality for children and families as some of the quotes below tell."

"I just wanted you to know that today you pretty much saved someone's family from having social work intervention. She literally had nothing left in the house and was pretty much about to have a nervous breakdown. You will never understand what it means to her that you helped no questions asked."
Early response to pandemic made from STV Children's Appeal
STV Children's Appeal stepped into the breach at the earliest stage, funding FareShare to provide food to the most needy in every part of the country. We encouraged our current investees to repurpose their awards to meet the need that presented itself right at that time and through our relationship with The Scottish Government we managed more than £1.1m of emergency funding. Our report on the impact and learning from this response is now available.
During the pandemic, we saw many examples of communities taking action to help people in need, including neighbours reaching out to one another to provide informal support, communities self-organising and an overwhelming response to requests for volunteers. Our programming told a compelling story of strong community spirit and community empowerment in the face of adversity. It is this that we hold dear and take into our 2021 grant making.
Shining a light
STV used its platform as Scotland's commercial public service broadcaster to shine a light on the issues faced by so many people across Scotland. The programming showcased the fundraisers and the causes the Appeal is responding to, with STV presenters visiting projects who receive funding and support. The year's fundraising efforts culminated in the annual televised STV Children's Appeal Show, hosted by Lorraine Kelly.
Your donations went further
Children and young people in poverty were helped during 2020 thanks to generous donations from individual donors, community groups, workplaces and corporations.
It is also important to recognise the Scottish Government's support for the STV Children's Appeal and as was the case in 2020, they match funded of all donations up to £1million. But it is so much more than the funding, it's our ability to share these stories with Ministers and with the wider public, shining a light on the issues and stimulating the debate which makes our role all the more powerful.
The support of the Wood Foundation has also enabled us to focus additional investment in the North East of Scotland.
And every penny donated was made available for distribution to charitable projects as a result of the commitment by STV Group plc and The Hunter Foundation to fund the operating costs of STV Appeal.
Creating long-term sustainable change
Looking forward we shall continue to promote public awareness, debate and through our work in funding vital front line projects, long term sustainable change. A key element of this strategy is to build upon an already strong and constructive relationship with the Scottish Government in re-shaping the face of child poverty in Scotland. COVID-19 and its impact on those with least will be a strong feature of our work in 2021, in particular the emerging and frighteningly rapid growth in poor mental health.
For 2021 and beyond, the STV Children's Appeal will seek to make a positive impact on Child Poverty in Scotland by using our mature investments to inform the policy change that will ensure long term sustainable change.
Our commitment to investing across all 32 Scottish Local Authorities annually remains unchanged.
"The STV Children's Appeal has allowed us to see just how resilient individuals and communities can be when faced with adversity" explains Baroness Ford. "It has also helped us to understand, in a deeper way, just how important your support of our work is and we are indebted to all who donate.

"When people are empowered, enlightened and engaged, change happens. And we are proud to play our small part in this."