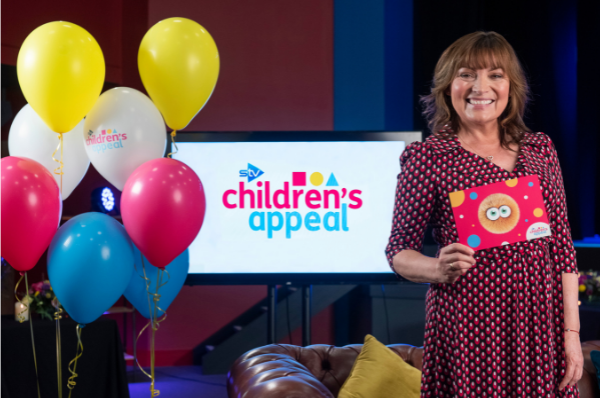 A grand total of £4,336,105 has been raised by the STV Children's Appeal throughout 2021 – its tenth year – bringing the total amount raised by the Appeal since its formation to over £29 million.
A busy year of fundraising culminated in a successful telefundraiser broadcast on STV on Friday. The programme, presented by long-term host Lorraine Kelly, was broadcast from Kilmarnock-based performing arts academy CentreStage, a charity which has been supported by the Appeal since 2014.
First Minister Nicola Sturgeon also joined Lorraine on this year's programme to explain why the Scottish Government has again pledged to match fund £1 million of the final total raised. During the show, Sturgeon said:
"It's possibly the best £1 million the Scottish Government spends in any year because every single penny of it goes to helping children and young people across the country. It's a fantastic appeal and it supports good causes the length and breadth of Scotland and really changes lives. I'm delighted to support it."
The STV Children's Appeal has seen a wide range of "community heroes" from across Scotland helping to raise money this year, including:
The Rotary Club of Claverhouse, whose Dundee Cyclathon event featuring over 100 cyclists raised £12,500
Glasgow schoolboy Robbie Sawatsky,10, who raised over £1,100 by swimming ten 200m lengths of his local pool in one session
Stirling-based Tiahna Mathieson whose 10,000ft St Andrews skydive raised over £1,250
Elsewhere, the hundreds of people who took part in The Kiltwalk event on behalf of the Appeal raised over £97,000, while corporate supporters in 2021 have included Lidl, Tunnock's, Beatson's Building Supplies and The Electric Heating Company.
Paul Reynolds, Chair of the STV Children's Appeal, said:
"As always, the unwavering generosity of our viewers, partners, corporate fundraisers, STV colleagues and our incredible community heroes is simply staggering, and we're grateful that the work of the Appeal still captures so many hearts across the country. One in four children and young people live in poverty in Scotland – a devastating statistic. This money will help make a real difference to their lives, with 100% of donations being spent on the children in Scotland who need it most."
There's still time to donate
You can make a donation today that can change a child's life. Donate online in just seconds.