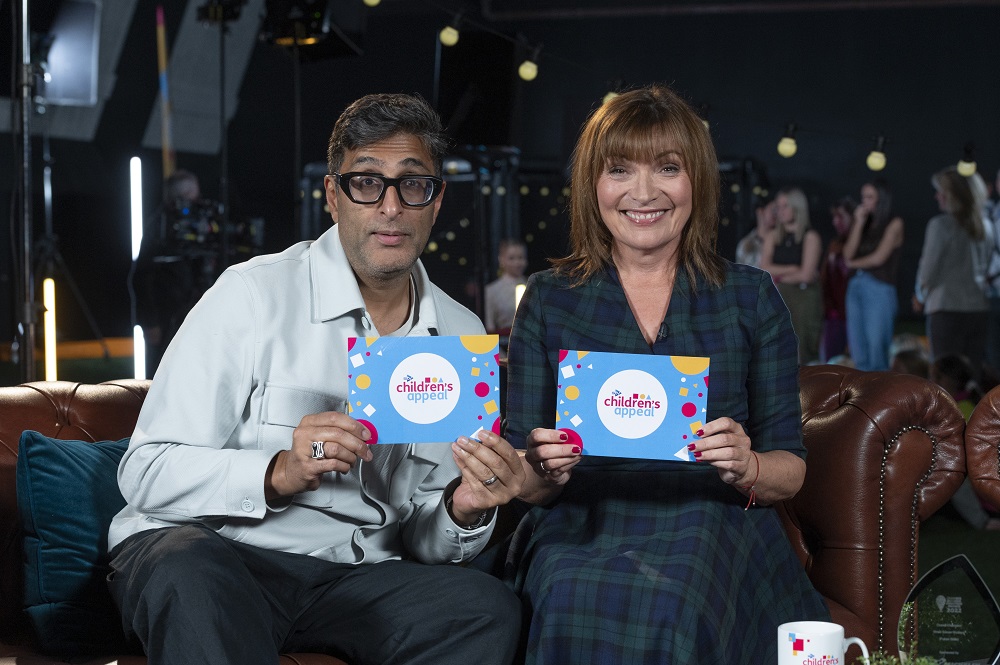 The annual STV Children's Appeal Show airs this Friday (4 November) on STV at 9pm, presented by TV icon Lorraine Kelly and Still Game star Sanjeev Kohli. As another year of fundraising draws to a close, the show features a host of celebrities supporting the Appeal and the stories of fundraisers across Scotland, whose efforts have raised hundreds of thousands for children affected by poverty. Highlights from the show include:
Martin Compston visits the Street Soccer club in his hometown of Greenock and describes football as the "common language" to unite people from all backgrounds. Football-crazy Martin puts on a strip and plays as a goalie, describing the "incredible positive effect" the charity has on young people, through providing purpose and allowing them to enhance their skills.
The First Minister describes Scotland as a country of "social solidarity" and pledges future support for the Appeal from the Scottish Government. Nicola Sturgeon also comments that "every pound donated is more special, as it's so much harder to come by" referencing the cost-of-living crisis.
An exciting addition to this year's show is the 'Coast-to-Coast' challenge undertaken by STV presenters Sean Batty and Laura Boyd, who competed in a series of secret challenges set by businesses, schools, and nurseries. The pair travelled between the coasts in an electric TukTuk named 'Tina Tuker', with plenty of laughter along the way. Their challenge climaxes with a surprise that forces them both to face their greatest fear…
The show ends with an exclusive musical performance of "When You Lose Someone" by Edinburgh singer-songwriter Nina Nesbitt.
A host of famous faces, including Lewis Capaldi, Alesha Dixon and Carol Smillie, will also appear on STV throughout the day to lend their support and encourage donations.
Lorraine Kelly, trustee of the STV Children's Appeal said: "I can confidently say that this year's STV Children's Appeal show is like no other. I had the best time hosting the show alongside Sanjeev in Dundee, a city that is close to my heart; you can expect to feel inspired, learn more about some wonderful charities and watch some heart-warming exchanges. You may even witness some top-class football skills on full display…
Sanjeev and I loved learning about all the fantastic fundraising and meeting so many special folk on the show. Remember, viewers can donate all day on the 4th of November, so you can still help us make a difference. Tune in for all the action!"
Sanjeev Kohli, Presenter said: "It's always a delight working with Lorraine Kelly on the STV Children's Appeal show. I'm confident that the generous people of Scotland will donate what they can on the 4th, so that we can help children and young people living in poverty across Scotland gain access to the support of charities that can often be a lifeline for them."
The STV Children's Appeal Show 2022 has a new look this year, broadcast from an indoor football centre based in Dundee. The show was hosted by Street Soccer, a charity that provide free training and development for young people and have a longstanding relationship with the Appeal. David Duke, CEO said: "Street Soccer Scotland were delighted to welcome the STV Children's Appeal Show to our Change Centre in Dundee. It was great to welcome some of the charities supported by the appeal. There was a real buzz around the place and hopefully the appeal show can raise plenty of funds and awareness to make sure that children and young people have a better chance in life."
Documentary on childhood trauma will be shown at 7pm on STV
Documentary "Scotland's Stories: Let's Talk About Trauma" airs on 4 November, at 7pm. This half-hour special highlights the story of presenter Aidan Martin who struggled with childhood trauma and follows his journey from addict to activist and author. The documentary spotlights the work of charities Aberlour in Falkirk, Motherwell-based The Miracle Foundation, and the Trust Project in West Lothian College.
Programmes this week
STV Children's Appeal: Scotland's Stories: Let's Talk About Trauma – Friday 4 November from 7 – 7:30pm, watch now on STV and STV Player
STV Children's Appeal 2022 – Friday 4 November from 9 – 10pm, watch now on STV and STV Player