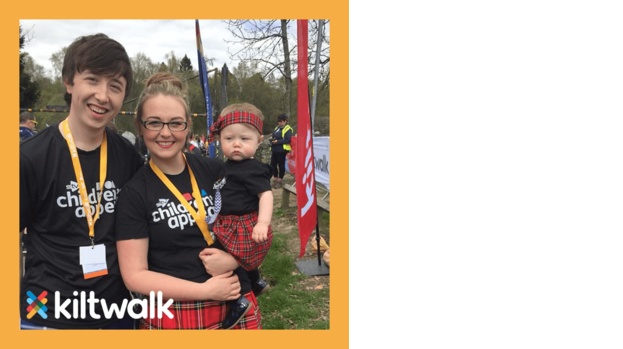 Charities are being hit hard during this pandemic as are those who rely on the support they bring. However some welcome and good news arrived today from one of Scotland's most loved events.
More than 150 charities will share a much-needed £300,000 cash lifeline thanks to the Aberdeen Kiltwalk. Despite the postponement of the event following the pandemic lockdown, generous Kiltwalkers raised £150,000 after organisers urged the 1,300 registered walkers to keep fundraising if they could for their chosen charities.
Moments after the fundraising deadline, Sir Tom Hunter announced that The Hunter Foundation, instead of adding 50% to walkers' funds, was adding 100% – doubling the funds each Aberdeen Kiltwalker has raised. This will add an extra £150,000 and deliver a total of £300,000 to 155 charities!
Thanks to the support of the Kiltwalk fundraisers, STV Children's Appeal will receive over £3,000 to help ensure that children and young people affected by poverty receive the care and support they need.
Sir Tom Hunter said: "Charities across Scotland are in crisis. At a time when they are facing severe financial difficulty many are dealing with unprecedented demand for their services. If they don't receive the funding they need to continue operating, the consequences for our most vulnerable people will be devastating. It really doesn't bear thinking about.
"I am incredibly proud of our kind-hearted Kiltwalk community in Aberdeen and the North, who have continued to raise £150,000 in very challenging circumstances. They are true heroes and it is an honour for The Hunter Foundation to match fund every penny they have raised.
Scott Maxwell, Community and Events Fundraising Manager for the STV Children's Appeal said, "Thank you so much to the Kiltwalk, The Hunter Foundation and of course the Kiltwalk Fundraisers for a generous donation of over £3,000. This will go a long way to help ensure that children living in poverty in Scotland can avoid being pushed deeper into poverty during these tougher times. We look forward to saying a big thank you to you all in person, and can't wait to walk with you when the Aberdeen Kiltwalk returns in the future!"