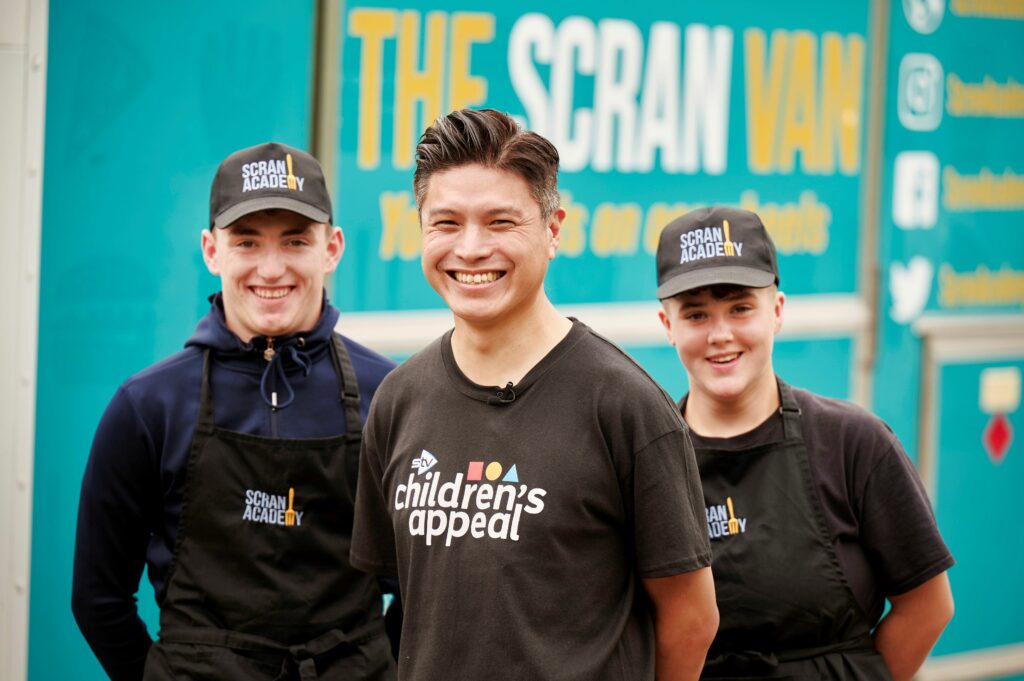 Money raised by people walking the Edinburgh Kiltwalk for STV Children's Appeal will be donated to social enterprise, Scran Academy.
TikTok sensation, chef Jimmy Lee, urges people to sign up.
Charity transforms young people's lives in Edinburgh through the power of food.
Celebrity chef Jimmy Lee has surprised Edinburgh locals by getting behind the grill of the city's 'Scran Van' to celebrate a new partnership between the STV Children's Appeal and social enterprise, Scran Academy.
Restaurant owner and TikTok sensation Jimmy – whose videos have racked up millions of views on the platform – joined Jo and Erin from Scran Academy to serve tasty kebabs to locals during the busy lunch period.
The new partnership between the STV Children's Appeal and Scran Academy will see every pound raised by walkers taking part in the Edinburgh Kiltwalk for the Appeal or the Kiltwalk charity go straight to Scran Academy. The annual Kiltwalk, which sees thousands of people walking to raise money for charities across Scotland, ends next month with the final event taking place in Edinburgh on 17th September.
Scran Academy is a catering social enterprise that helps young people overcome poverty related barriers and thrive, through accessing the support, relationships, and skills required to change their own lives. They offer transformational youth work and social enterprise programmes that empower young people to fulfil their potential, such as the 'Scran Van' and 'Scran Café' using the power of food to enhance young people's skills and confidence and connect communities across Edinburgh.
Kiltwalk funds will be used by Scran Academy to run a programme of community events and free meal deliveries for children and families in schools and community groups right across Edinburgh, delivered by their youth-led 'Scran Van'.
Chef Jimmy Lee said: "I'm delighted to support this new partnership and had a great afternoon behind the grill of the Scran Van. I was led by a team of inspiring young people that worked exceptionally well as a team, who I know will drive this project forward. I loved hearing more about the work of the charity and I urge people across Edinburgh to get behind the Appeal at the Kiltwalk, because communities across Edinburgh and the young people at the charity will benefit hugely from these funds."  
John Loughton BEM, Founder of Scran Academy said: "Scran Academy are thrilled to be partnering with STV Children's Appeal as Kiltwalk beneficiary, especially at a time when so many families are struggling and being let down. We were set up and run by the very people from the communities we now work in. This support will enable us to reach more young people and families right across Edinburgh. Thank you to Jimmy and everyone involved for supporting the partnership."
The STV Children's Appeal is a grant-making charity committed to helping the one in four children living in poverty across Scotland, by funding hundreds of projects that provide essential support. Throughout communities in every region of Scotland, the Appeal helps provide practical help like food and warm clothes; creates opportunities for training and employability; and enables social and emotional support.
Natalie Wright, Head of the STV Children's Appeal, said: "We're proud to partner with Scran Academy; their passion for transforming young people's lives, and empowering them to reach their full potential makes them the perfect fit as our Edinburgh Kiltwalk partner. Whether you're walking 5, 15 or 21 miles, every pound raised for the STV Children's Appeal will go to Scran Academy, allowing them to provide free meals for families in some of the most deprived parts of Edinburgh. We encourage you to get your trainers and tartan ready by signing up for Kiltwalk, to help those that need it most and for a great day out. To everyone taking part, we are so grateful."
The last Kiltwalk of the year takes place in Edinburgh on 17 September. Sign up here.