The Dundee Cyclathon Challenge 2020, organised by the Rotary Club of Claverhouse has raised the magnificent sum of £9,100 in aid of the STV Children's Appeal.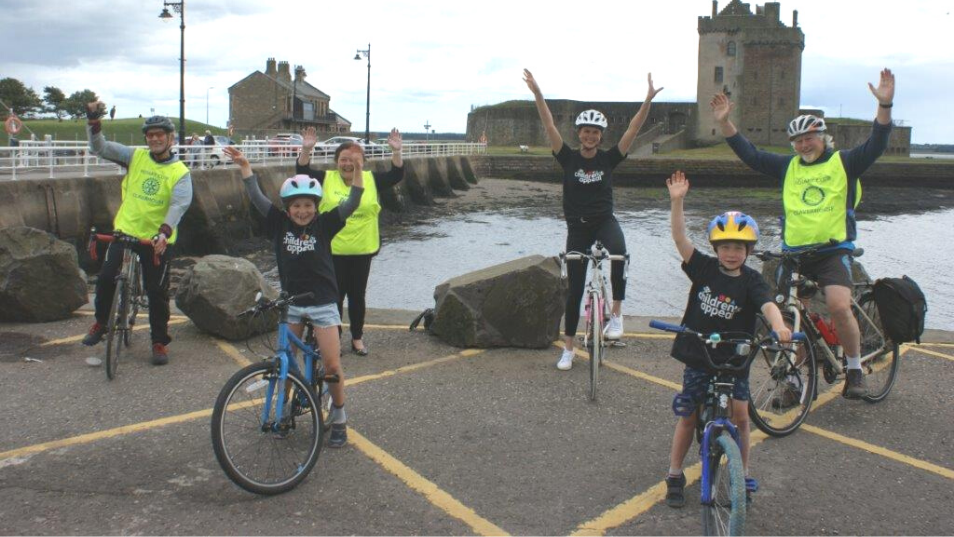 This year's event, reshaped to conform with pandemic restrictions, operated differently to Cyclathons over the last 15 years, with participants allowed to cycle where they wanted and how far they wanted during 3rd – 9th August.
Over 100 cyclists of all ages joined in, either individually or as part of a team with family, friends or colleagues from work.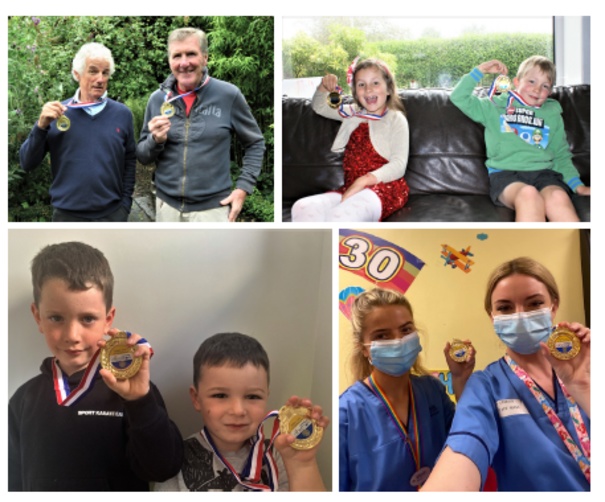 Among the youngest cyclists taking part were 6 year old Frankie McLaren and brother Reggie, 3, who cycled 6 miles for the first time on their new bikes and 8 year old Mara Bell with her brother Sorley, 6, who cycled from Carnoustie to Arbroath and back.
In contrast, sixty and seventy year old Rotarians, Stewart Davidson, Brian Cairns and David Boxer with wives Margaret Davidson and Maureen Boxer pedalled a total of 520 miles, covering 20 laps of the Dundee Green Circular Cycle Route.
Over £1,700 was raised by 5 Dundee Freemasons – Dan Neale, Graham Letford, Garry Bertie, Charlie Shepherd and Jimmie Ireland who between them cycled a journey of 600 miles in one day, around a circuit covering 32 Masonic Lodges in Angus.
Despite their very demanding schedule, dedicated front line workers, Ashley Treanor and Nicole Watt, paediatric nurses at Ninewells Hospital, managed to raise over £700 by cycling the return route between Longforgan and Arbroath.
All entrants received a certificate and Cyclathon medal in recognition of their significant effort and commitment, making this year's Cyclathon one of the most successful in the history of the event.
Families hit hard by the pandemic will benefit
Scott Maxwell, Community and Events Fundraising Manager for the STV Children's Appeal, said "Thank you so much to the participants who set themselves a challenge, to everyone who made a donation in support of their incredible efforts and to the Rotary Club of Claverhouse for organising such a fantastic Cyclathon. Families already living below the poverty line are those likely to be hit the hardest by the pandemic and are at risk of being pushed deeper into poverty. In addition to essential supplies and vital support, this kindness will also help to give hope and create smiles during these tougher times for disadvantaged children and young people living in Scotland."
Martel Maxwell, Dundee's own TV and Radio celebrity, had been promoting the event to support local children living in poverty, worsened by the effects of the recent pandemic. She added, "Well done to all cyclists who took part in this great event, everyone who made a donation in support of their amazing efforts, and the company sponsors who all made this event such a success. They and the organisers, Claverhouse Rotary Club, should be very proud of the difference they will make to the lives of so many children who so desperately need help and support. We in Dundee have done it again by getting on our bikes and showing how much we really care about those less fortunate than ourselves.
Pat O'Connor, President of the Rotary Club of Claverhouse, concluded "This year's Cyclathon has been outstanding. The good will of sponsors has surpassed all our expectations. Participants of all ages, from 3 to 73, have put their pedal to the metal and raised the princely sum of £9,100. We are indebted to you all and humbled by your efforts to raise funds for the STV Children's Appeal. Thank you all from the bottom of our hearts. The Rotary Club of Claverhouse are proud to have played a part in this tremendous effort, delivering exceptional results."
Upcoming events
Has the Cyclathon inspired you to get fundraising? We've got two events taking place this Autumn that need you to make them a success.
Virtual Kiltwalk Weekend Sep 11-13. Walk, run or cycle any distance you like, wherever you are. And the generous Hunter Foundation will add 50% to your fundraising total! Wow!
Big Scottish Breakfast Oct 16. Get your friends, family, colleagues or classmates involved. Have breakfast – virtually or within social distancing guidelines – have fun, and raise money for the 1 in 4 children in Scotland who often go to school hungry.