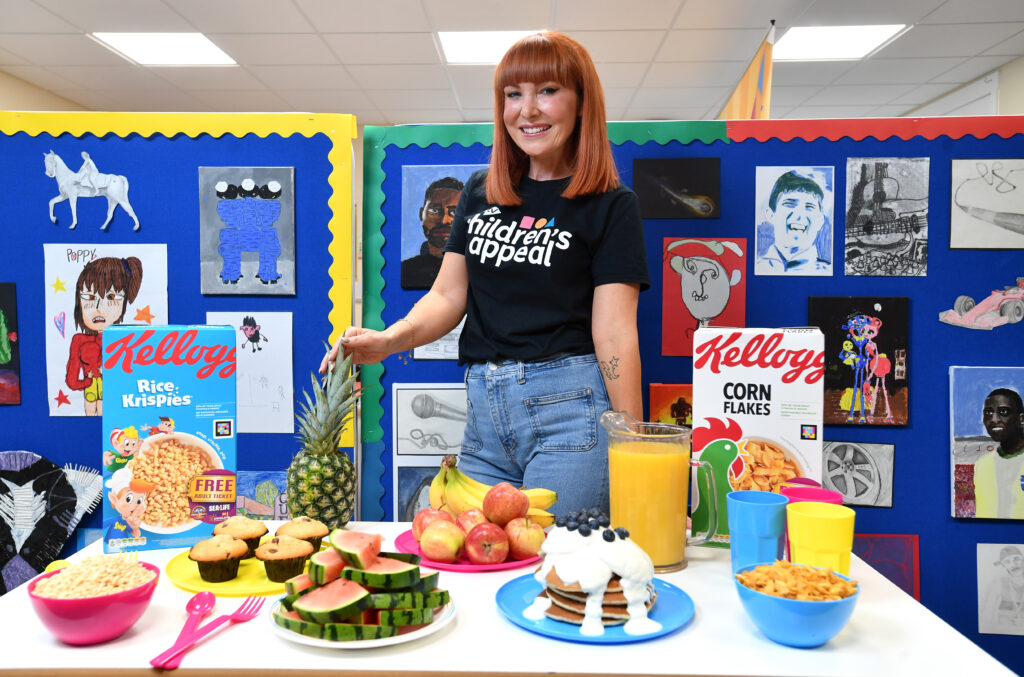 STV Children's Appeal and Kellogg's invite Scots to have breakfast together and raise money for children affected by poverty in Scotland
Nationwide Big Scottish Breakfast event to take place between 11-15 September
STV presenter Laura Boyd visits winner of Kellogg's Breakfast Club Awards in Alloa to launch new partnership
The STV Children's Appeal's Big Scottish Breakfast fundraising campaign is back for 2023 – and, for the first time, this year's initiative will be supported by Kellogg's.
The cereal giant is getting behind the campaign, which brings communities together every year to share breakfast and raise money for children affected by poverty in Scotland.
Kellogg's has been a supporter of school breakfast clubs across the UK for 25 years, with the company's Breakfast Club Network providing cash grants and free food to over 3000 clubs since 1998.
STV presenter Laura Boyd visited a breakfast club in Alloa today to help launch the new partnership.
Clackmannanshire Schools' Support Service, based in Tullibody, recently won Best Breakfast Club in Scotland at Kellogg's Breakfast Club Awards. The club first opened in 2019 and supports 25 students with a free breakfast every morning. It has helped build meaningful, positive relationships between pupils, and parents have given feedback that the breakfast club has helped financially and reduced stress levels in the morning while trying to get the family ready for school.
Breakfast clubs play an important role in many schools, as 63% of teachers interviewed in a recent survey* said the number of children in their classroom going hungry has increased since last year.
This year's Big Scottish Breakfast event takes place between 11-15 September. The STV Children's Appeal and Kellogg's are inviting groups of friends, family, colleagues and classmates across Scotland – from Castle Douglas to Kirkwall – to host a fun-filled breakfast event on one day that week, and donate what they can to help children and families that need essential support.
The campaign is one of many organised by the STV Children's Appeal to help tackle child poverty since its formation in 2011. Each year, the Appeal provides large and small awards to charities across all 32 local authority areas in Scotland, delivering much-needed support to tens of thousands of children and young people.
Laura Boyd said: "Well that was one of the best breakfasts I've had in a while! I had such a great time meeting the wonderful kids at the Clackmannanshire Schools' Support Service and can't wait to have another fun-filled Big Scottish Breakfast with my friends and family in September."
Natalie Wright, Head of STV Children's Appeal, said: "Having Kellogg's on board as our official partner for the Big Scottish Breakfast feels like such a natural fit. The work they do through their Breakfast Club Network has helped to alleviate school hunger for thousands of children and is very much aligned with our core mission to improve the lives of young people affected by poverty in Scotland.
"Getting a group of pals or family together to share breakfast and have a bit of a laugh may seem like a simple thing to do, but we've seen first-hand that it can have an enormous impact on the children who need the most support."
Heather Murphy, Kellogg's Community Engagement Manager, said: "We're excited to be part of the Big Scottish Breakfast this year and support the campaign to raise money for children affected by poverty.
"Being hungry can impact children in many ways in the classroom, making them unable to concentrate. That's why we support breakfast clubs, so that children can enter the classroom in the morning without a rumbling tummy and ready to learn."
The Big Scottish Breakfast takes place across Scotland between 11 and 15 September. You can download a fundraising pack at stvappeal.tv.
* The research for Kellogg's was carried out by Spark Market Research between 12 January and 1 February 2023.