We have a very limited amount of entries for this iconic event and want to give you the chance to secure your place in the world's greatest marathon, from wherever you are!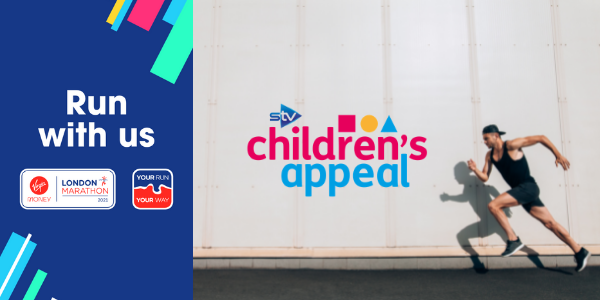 This is your chance to do the London Marathon your way – our ballot is open from now until the 18 June, giving you the chance to secure an STV Children's Appeal place in the virtual run. Every penny you raise through your efforts will go to ensure children and young people affected by poverty in Scotland receive the vital support they need during these difficult times to support their mental health and prevent hunger.
A record breaking year
This year's Virgin Money London Marathon on Sunday 3 October is set to be the biggest marathon ever staged anywhere in the world, with an incredible 100,000 runners scheduled to take part (50,000 participants on the traditional course from London's Blackheath to The Mall, and another 50,000 running the 26.2 miles in a virtual event around the globe).
How the virtual London Marathon works
The virtual 2021 Virgin Money London Marathon will take place on Sunday 3 October and participants will have 23 hours, 59 minutes and 59 seconds (from 00:00:00 to 23:59:59 BST) to complete the distance, which they can choose to run, walk or jog – participants of all abilities are welcome
The Official Virgin Money London Marathon App, powered by TCS, will allow participants to track and log their 26.2 miles, its special features will really help bring the virtual experience to life, with an exclusive audio commentary featuring famous voices providing a memorable soundtrack to the day.
Your run, your way
If you want to make your marathon even more memorable, here's some ideas to personalise your experience:
Being dropped 26.2 miles from home and running back to a hero's welcome
Completing each mile with a different running buddy, sharing the challenge with friends and family
Getting together with a group of friends to walk the 26.2 miles together
Creating a unique course that visits the homes of friends and family so they can set up outdoor drinks stations for a refuel and catch-up over an energy bar
Participants in the virtual event will be joining many thousands of walkers, joggers and runners in the biggest-ever celebration of everything the London Marathon embodies – fun, fundraising, fancy-dress and human togetherness, all over the world
How to apply for a place
If you would love to take part and raise funds that will help children in Scotland living in poverty access the vital care and support they need, all you have to do is read and agree to the terms, conditions and minimum fundraising target, then complete the ballot form below before 5pm on Friday 18 June 2021.
Entries will then be drawn and successful applicants notified week commencing Monday 21 June.
Fundraising and Terms & Conditions
You agree to endeavour to raise a minimum of £150 through sponsorship. The STV Children's Appeal fundraising team will be on hand to help you smash it and keep you motivated!
Entrants must be 18 or over on Sunday 3 October 2021
All 26.2 miles must be completed on Sunday 3 October 2021
Participants need to observe current government guidance on social distancing while training and during the event
The 2021 Virgin Money London Marathon App, powered by TCS, will require the participant to enable GPS to track their 26.2 miles
Tracking information will be used to produce the individual certificate unique to the participant
The virtual 2021 Virgin Money London Marathon is not held on closed roads
Runners are responsible for their own nutrition and hydration during the virtual event
All virtual event participants will be asked to upload proof of their time and official results will be published
APPLICATION CLOSED. TO BE ADDED TO RESERVE LIST PLEASE EMAIL scott.maxwell@stv.tv