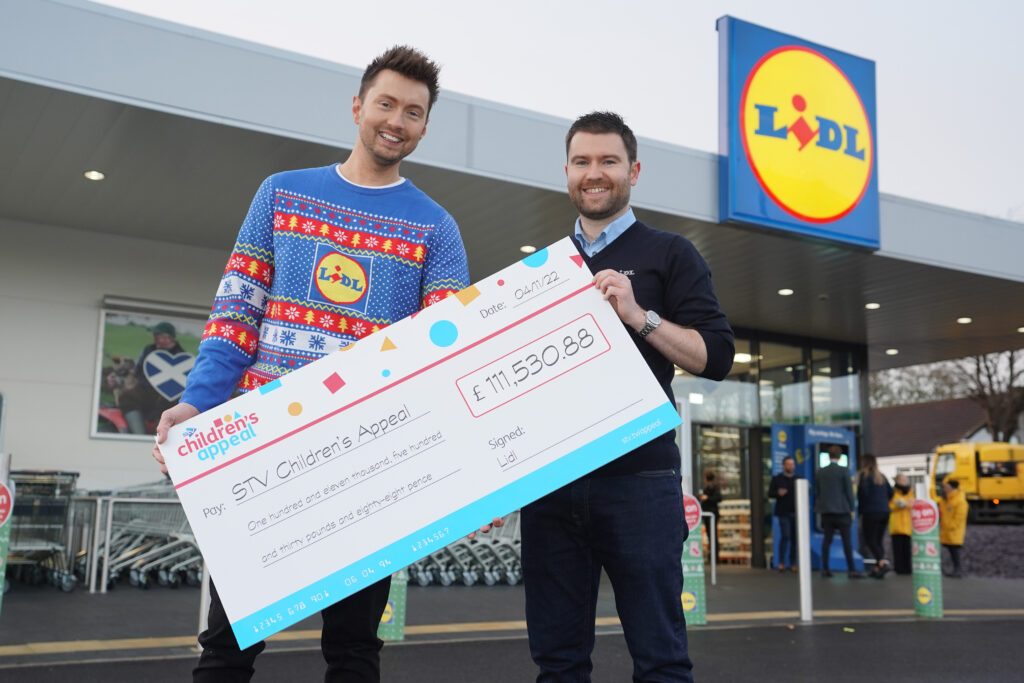 Sean paid a visit to the new Airdrie store to cut the ribbon, officially marking the 111th Lidl in Scotland. The store opening coincided with Lidl announcing it has achieved a record-breaking year of over £111,000 in donations to the STV Children's Appeal.
Lidl colleagues raised the funds through team game nights, bucket collections and cycling challenges. The funds go to grassroots charities and community organisations that support some of Scotland's most vulnerable children and young people. Lidl have been long-running supporters of the Appeal, finding new ways to raise funds every years.
Airdrie locals queued excitedly for the store opening, as they waited to snap up some opening weekend offers and capture some selfies with Sean.
Lidl GB's Regional Head of Property for Scotland, Gordon Rafferty, said: "We would like to say a huge thank you to everyone who has helped make Lidl's 111th store a reality. We would also like to extend our sincere thanks to Sean Batty, for cutting the ribbon to coincide with Lidl's £111,000 of STV Children's Appeal donations over the past year. The new store will continue to bring great products and fantastic offers to the local community, along with high quality, fresh Scottish produce throughout the year."
Weatherman and STV Children's Appeal ambassador Sean Batty said: "It has been an honour to officially open Lidl's 111th store in Airdrie, coinciding with a whopping £111,000 in Lidl donations to the STV Children's Appeal. Vulnerable children and young people across Scotland are in need of our help now more than ever, and every donation goes a long way in supporting these vital charities and organisations."