Coronavirus has made 2020 a year most of us can't wait to see the back of, but before it comes to an end, you can still make it the season to be jolly and bring back the Christmas spirit thanks to the STV Children's Appeal virtual party pack!
Download your Christmas Party Pack
Free to download, the festive pack provides you with lots of ideas, suggestions, materials and tips on how to recreate the fun, magic and togetherness of Christmas, in a digital and safe way, with your extended family, friends and colleagues.
Inside your party pack:
a Christmas quiz
games and entertainment ideas
cocktail recipes
dress code and award ceremony suggestions
alternative ideas to the Secret Santa gift giving tradition
and even decorations!
By creating and hosting an online party and having some virtual fun, you and your guests will also have the opportunity to bring some joy and vital support to disadvantaged children all across Scotland this Christmas and into 2021 by each guest making a small donation equivalent to the price of a mince pie and glass of eggnog!
Take part and save child's Christmas
We will work closely with smaller charities in your community and across the country to ensure help reaches children who are really struggling. With your help, we can make sure they've got food in their tummies this Christmas, can go to bed in warm homes, and be supported to combat isolation and improve their mental health.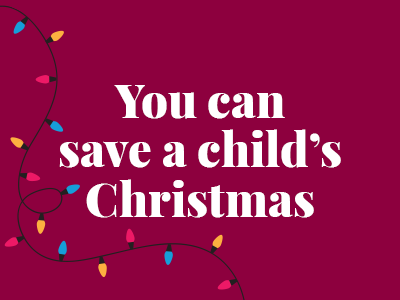 "Christmas time is really hard for me and my wee boy. Covid has made all of it that bit more difficult. But the support we've had has been brilliant. I received vouchers to buy food and stuff for the house as well as toys and a book for Calum.

"I couldn't have done it without them. It's taken the stress out of Christmas and made it really special for Calum. That's what Christmas is all about – it's all about the weans, it's not about me, it's about making it the best for him." – John, Inverclyde.
So what are you waiting for?
Download the pack > set a date and invite your friends online > have some festive fun > make a difference to children in Scotland living in poverty this Christmas and beyond.
Download your Christmas Party Pack