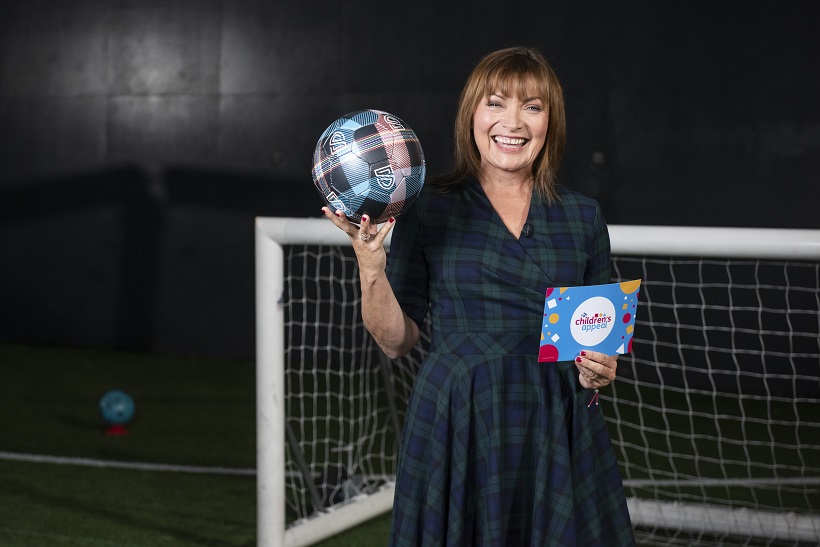 A grand total of £3,172,589 has been raised by the STV Children's Appeal throughout 2022, bringing the total amount raised by the Appeal since 2011 to over £32 million.
A busy year of fundraising concluded with a successful telefundraiser broadcast on STV on Friday (4 November). The programme was presented by TV icon Lorraine Kelly, alongside Still Game star Sanjeev Kohli, and was broadcast from the Street Soccer Change Centre based in Dundee. The show closed with an exclusive performance by Livingston-born pop star, Nina Nesbitt.
During the show, viewers saw Line of Duty actor Martin Compston visiting the Street Soccer club in his hometown of Greenock for a kickabout, and to learn more about how the charity supports young people through training and development opportunities.
The First Minister, Nicola Sturgeon, also appeared on the show and described some of the challenges experienced by families during the cost-of-living crisis. She said, "every pound donated is more special, as it's so much harder to come by", and confirmed that the Scottish Government will continue its support for the Appeal.
A heart-warming exchange occurs on show between nine-year-old Star Wars superfan Callum Martin and Ewan McGregor. Callum was diagnosed with autism and ADHD at 5 and is supported by charity Outfit Moray. In a special video message, Ewan says "I just wanted to say I've heard so much about you, and how brilliantly you're doing with your activities at Outfit Moray. I just wanted to say I think you're brilliant, keep up the good work, and may the force be with you."
Elsewhere, a special feature of the STV Children's Appeal Show 2022 was the Coast-to-Coast challenge, undertaken by STV presenters Sean Batty and Laura Boyd. The pair competed in a series of surprise challenges set by young people as they travelled from Oban to Dundee by electric tuk-tuk. Sean and Laura's screams were audible across the Highlands when they were surprised with a bungee jump challenge to end their time on the road. They raised over £15,000 and told Lorraine it was worth "conquering their fears" for the Appeal.
There were many other supporters across Scotland who raised money for the STV Children's Appeal this year, including:
· Long-running supporters Lidl who raised over £111,000 through their staff game nights, bucket shaking, and cycling challenges
· Beatsons Building Supplies who donated 50p from each bag of sand sold to the Appeal, raising over £21,000 in total
· £10,000 by Tunnocks, donated during the STV Appeal Cup football tournament
It was also the first year since the beginning of the pandemic that The Kiltwalk was able to resume its full schedule of live events. 20,000 people took part, raising over £93,000 for the STV Children's Appeal.
Paul Reynolds, Chair of the STV Children's Appeal, said: "We are absolutely delighted to see such a huge amount of money raised for the STV Children's Appeal, particularly given the difficult circumstances many people have faced this year.
"The continued kindness of our viewers, community fundraisers, corporate partners, STV colleagues and the people of Scotland is truly commendable and something that we celebrate every year through our Appeal show. We will now begin the process of immediately distributing these funds to incredible charities who work tirelessly to support the children and young people affected by poverty across Scotland. On behalf of everyone at the STV Children's Appeal, I'd like to offer my sincerest thanks to everyone who fundraised and donated."
You can donate to the STV Children's Appeal 2022 by visiting stv.tv/appeal. Watch the show on STV Player