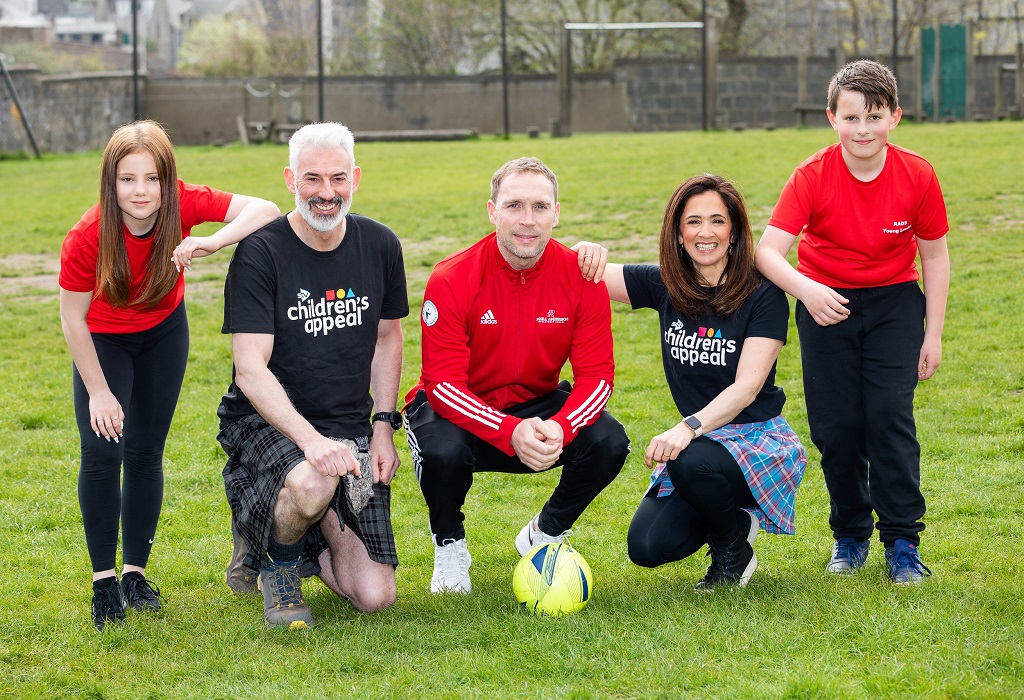 Every year, thousands of people take part in the Kiltwalk to raise money for charities across Scotland, and next up is the Aberdeen event on 4th June. We're excited to announce that everyone who is walking for the STV Children's Appeal or the Kiltwalk charity at Kiltwalk Aberdeen will see every pound they raise go straight to the Russell Anderson Foundation.
The Russell Anderson Foundation was established in 2012 by Aberdeen legend and former Aberdeen F.C. Captain Russell Anderson, to help children across areas of social deprivation in Aberdeen improve their health and wellbeing.
The Foundation uses the power of sport as a tool to engage children, widening their prospects and levelling the playing field. It encourages children to form a love and passion for fitness by providing quality free afterschool football, golf, ruby and tennis to children at select schools in Aberdeen, with over 2,100 children benefitting on a weekly basis. The foundation also has a wider positive impact in the community, supporting vulnerable families with food parcels, partnering with NHS to highlight career opportunities and working with families to promote dental hygiene and healthy eating.
Kiltwalk funds will go directly to the Foundation's Community Skill Hubs, delivering practical cooking lessons in primary pupils. The funds will allow the programme to expand into more schools, encouraging enthusiasm for cooking and making healthy lifestyle choices. The project has adopted a "whole of school" approach where families join in on the activities, widening the benefits and reach of the knowledge and skills shared during the sessions.
Russell Anderson said: "Providing children with regular quality exercise continues to be a major focus of the Foundation. We are now seen as an integral part of the team at each of our partner schools and this has given us the credibility and confidence to push the boundaries and extend our offerings into other areas which can help the children and their families.

The STV Children's Appeal funds from the Aberdeen Kiltwalk will allow our Foundation to expand our services, as well as making positive and sustainable lifestyle changes to more children and their local communities. As part of our aim to provide a community-based support programme with the creation of Community Hubs, we work closely with local schools and other organisations, as we strive to nurture a community spirit and support network for families. As an embedded community partner, the Kiltwalk funding will also provide further opportunities for the children, for example practical cooking and volunteering.

Based on the current more challenging economic environment, the demand for our services continues to grow. We've had numerous requests to introduce our programme into other areas of the city and the partnership with the Russell Anderson Foundation and STV Children's Appeal is vital to make this happen."
Natalie Wright, Head of the STV Children's Appeal, said: "The Russell Anderson Foundation is passionate about improving the health and well-being of children and enhancing their life prospects, which makes them the perfect fit as our Aberdeen Kiltwalk partner. Whether you're walking the Wee Wander or Mighty Stride, every pound raised will go directly to the Russell Anderson Foundation, helping children from some of the most deprived areas in Aberdeen. We encourage you to get your trainers and tartan ready by signing up for Kiltwalk, to help those that need it most and for a great day out. To everyone taking part, we are truly grateful."
The Aberdeen event takes place on 4th June. The four-mile Wee Wander makes Kiltwalk Aberdeen a great family event but is also suitable for seasoned walkers with the option of the eighteen-mile Mighty Stride. Sign up here.
The STV Children's Appeal has been the Kiltwalk's official grant making partner since 2016. This means that money raised by people choosing to walk for Kiltwalk is dispersed by the STV Children's Appeal to charities and projects across Scotland. Previous projects funded include Calum's Cabin Flat, which provides living space for children with cancer and their families who visit the city for treatment; the CRIB, a community reach and inclusion bus in East Lothian; and support for charities responding urgently to the pandemic.