The STV Children's Appeal has helped to fund a pioneering initiative that supports school pupils in catching up with the many hours of learning lost during the Covid-19 pandemic.
Along with a local family charity in East Lothian, the Appeal contributed towards a £110,000 funding award for the Enhanced Learning Tutoring Initiative, which was established at the height of the pandemic in October 2020 by Queen Margaret University (QMU) and East Lothian Council.
The aim of the project was to partner students in year groups S4 to S6 in East Lothian's six secondary schools with graduates from QMU, who would offer a blend of online and face-to-face tuition to help students achieve better results amidst the turbulent learning conditions. Participating students met one or more criteria: they had additional support needs, mental health issues, hadn't been attending school, or were part of another "at risk" group.
For varying reasons, many pupils across Scotland struggled with learning whilst schools were closed and teaching was carried out remotely during the pandemic. This unprecedented disruption exposed stark inequalities between pupils from different socioeconomic backgrounds.
Around 300 students in East Lothian benefited from the Enhanced Learning Tutoring Initiative during the 2020/21 academic year, and after having a visibly transformative effect on so many pupils, the scheme was expanded into the Midlothian region in April 2022. Tutoring by QMU graduates is now being delivered to around 350 pupils per week from all 12 secondary schools in East Lothian and Midlothian.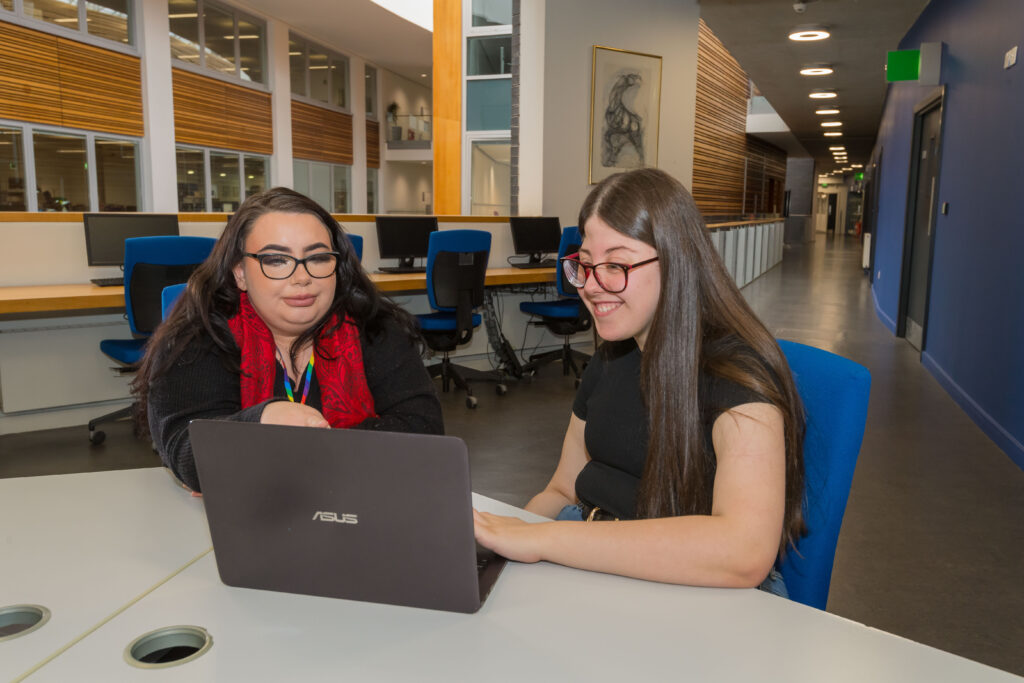 Chloe's Story
Chloe Wilson, an S4 pupil at Newbattle High School in Mayfield, Midlothian, had struggled with studying History after a very challenging year of teaching.
"Due to the pandemic, we had had a lot of different History teachers," she said. "There were certain aspects that I found really confusing. I also have dyslexia and am deaf in one ear, so that probably hasn't helped my learning, especially when some of the schoolwork was done online during the earlier part of the pandemic. Even though I was writing everything down, I struggled to retain the information."
After being given the opportunity to take part in the Enhanced Learning Tutoring Initiative, Chloe was partnered with QMU graduate, Amy Gibson. As the pair began to share one-to-one tutoring sessions, Chloe's confidence and knowledge of the subject grew exponentially.
"Amy has made everything much simpler for me," Chloe said. "She's helped me make improvements to the way I structure the answers to the questions, and I'm now getting better marks in my exams. I can now take Higher History, rather than the National 5, so I'm delighted. I eventually want to go to university to study music education, and I know that the progress I've made through the tutoring project is helping me towards that goal."
"It's Chloe's confidence [that has improved the most]," Amy told STV News when interviewed about her involvement in the scheme. "Now we can have these hour-long conversations and she'll say, 'what do you think about this?' or 'am I doing this right?' We just work together and I think it's important for young people to be able to make these relationships with adults. It doesn't happen often."
And as well as helping Chloe achieve her goals, Amy also believes the Enhanced Learning Tutor Initiative has a positive impact on the many graduates, like herself, who take part.
"It's been really rewarding to see the impact that I can make on young people," she said. "My degree is in Theatre and Film and my goal is to become a drama teacher, so this experience is really helping me develop the skills and experience I need to take the next step into teaching."