Autistic and non-verbal, Ross loves to run and play on his bike. But he's struggled to understand what lockdown is and why his usual activities have had to be cancelled. Thanks to funding from STV Children's Appeal, Ross and mum Carol have been thrown a lifeline.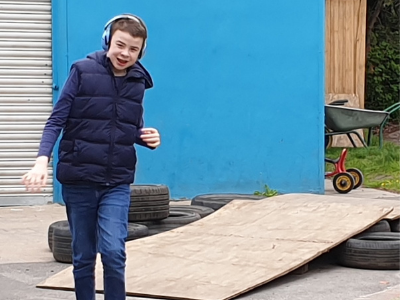 Aged twelve, Ross already towers over his parents in height. He is funny, likes to run, loves bikes and plays computer games. His cheeky personality shines through when he plays pranks on his mum like squirting her with water from his trick-shop watch.
Ross is also autistic and completely non-verbal. He has particularly sensitive hearing and when things get too much, he is prone to lashing out or has a "meltdown" by throwing himself on the floor. He also has no sense of danger – so when outside, Ross will just run, and run, not understanding the dangers of roads.
Mum Carol explains that since lockdown, Ross has struggled to understand what has been happening. He can explain if he is feeling happy or sad using a special electronic device to communicate, but doesn't have the ability to explain why, or to understand more complex emotions.
"It felt like we'd been dropped off a cliff" describes Carol. "Ross didn't understand why his usual activities got cancelled because of the pandemic and would get quite aggressive towards us".
Help was at hand thanks to The Yard, a project in Edinburgh funded by donations to the STV Children's Appeal. It provides adventure play services for children and young people with disabilities.
"We'd have been lost without it" explains Carol. "Ross could go and play, climb, ride a bike in safety and just play like a normal boy".
And while Ross plays, Carol can get a few hours respite to herself – essential for her own mental wellbeing. There are other times when she can connect with other parents in similar situations, swap ideas, tips and coping mechanisms".
Carol explains that Ross looks just like any other twelve year old boy – "he doesn't look 'disabled'" – and so if he is finding a situation distressing and lashes out, other adults often tut and cast disparaging looks in her direction.
"Coming to The Yard means we can all just be our normal selves without fearing judgement or living up to other people's expectations".
"We have no garden at home so coming to The Yard is absolutely great – Ross can just play and we can relax knowing he's safe and having fun. We wouldn't have survived lockdown without it."
Jenny MacDonald, Director of Development at The Yard, said, "We are very grateful to the STV Children's Appeal as one of our key funders who helped ensure we could continue to support disabled children and their families throughout lockdown. It is wonderful that our service with the City of Edinburgh Council, which our team delivered under emergency measures, was there to offer vital support for families like Carol and Ross'. We are now looking forward to being able to welcome more of our families back to The Yard over the coming months."
Thanks to people donating and fundraising to the STV Children's Appeal, Ross can come to amazing places like The Yard that help him to thrive whilst mum Carol can receive essential support and respite, vital for the wellbeing of the whole family.