MasterChef winner and Scotland's National Chef Gary Maclean has teamed up with the STV Children's Appeal to launch a series of homeschool cooking challenges.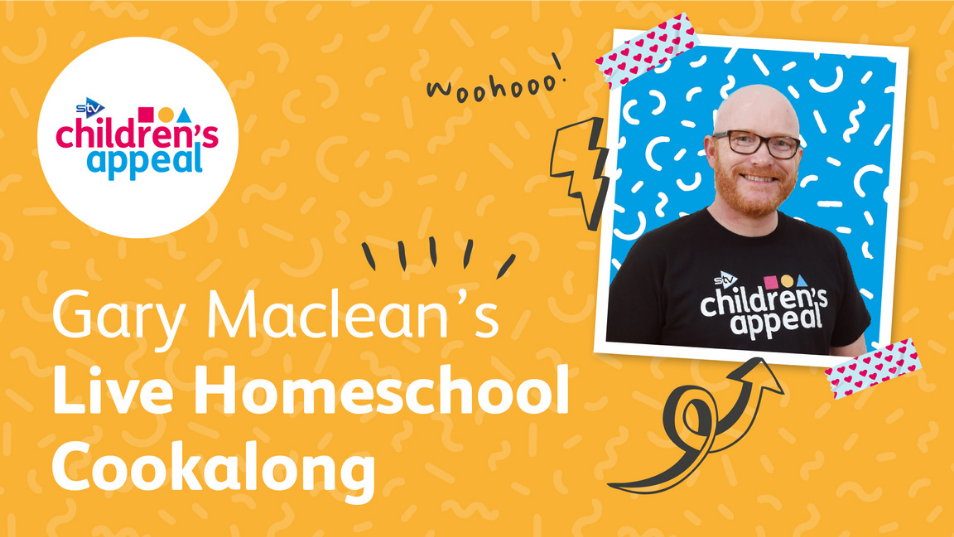 Designed to get kids into the kitchen while helping raise money for children living in poverty in Scotland, the three-part series will see kids cookalong with Gary via Facebook Live.
As a father of six children, Gary knows first-hand the challenges of homeschooling. "Keeping kids motivated, occupied and stimulated is not always easy without the normal classroom routines and when they're missing their friends," he explains.
"What we're doing here is a series of fun cooking classes that will hopefully meet kids' needs as much as parents – a modern twist on Home Economics if you like."
Recipes and ingredients will be posted a week in advance to provide plenty of opportunity to source what's required but Gary is at pains to point out that each recipe is simple and uses everyday items. "We're not going MasterChef standard here," explains Gary. "The idea is fun, simple and educational."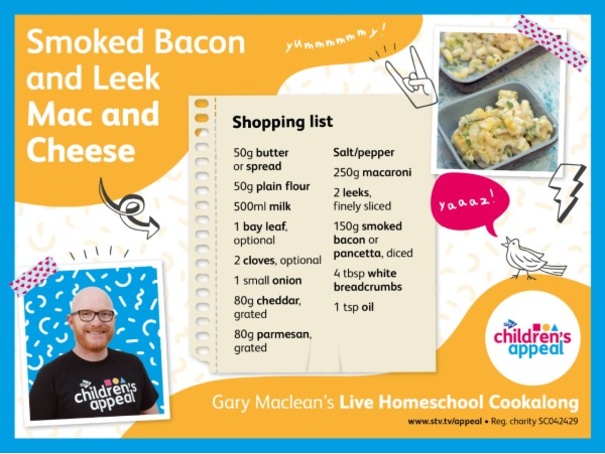 Opportunity to help kids going hungry
The series is free to watch and take part in, however there will be the opportunity to make a charity donation to help families who are struggling to put food on their tables.
As the coronavirus pandemic continues to cause major economic uncertainty, charities are witnessing significant demand from families unable to pay for food and household essentials.
Natalie Wright, Campaign Manager for STV Children's Appeal, explains: "One in four children in Scotland were already living in poverty before coronavirus struck. These children and their families are being pushed further into poverty now and really need extra support at this difficult time.
"We're seeing that communities are pulling together to help those who are really struggling and we hope that this cookalong series is another opportunity – for those who can – to help others, and to have fun whilst doing so".
A £5 donation can be made simply by texting COOK to 70507. Texts are charged are £5 plus your standard message rate and every penny will help children in Scotland living in poverty.
Gary added: "It's always a joy to partner with such a great cause as STV Children's Appeal. I've done a number of initiatives with them over the years and I'm really looking forward to this new series. I hope that, as well as having fun and helping with homeschooling challenges, we also make a difference to one of our country's most serious challenges – kids going hungry and going without."
STV Children's Appeal has already given £400,000 of money raised to food charity FareShare and launched an Emergency Coronavirus Campaign in partnership with the National Emergencies Trust.
Gary Maclean's Live Homeschool Cookalong will be live on Tuesday 9, 16 and 23 June at 12noon at STV Children's Appeal's Facebook.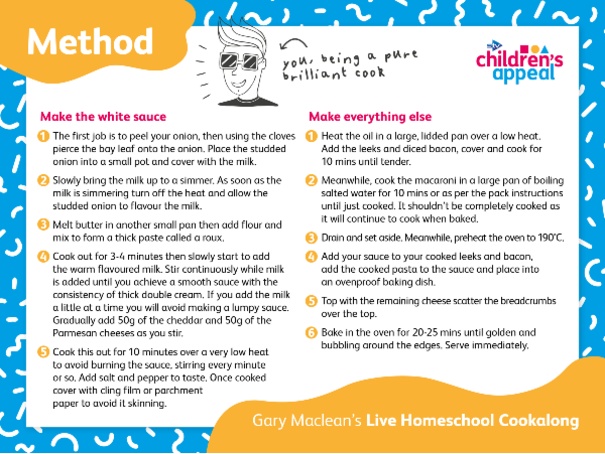 Download Ingredients and Recipes