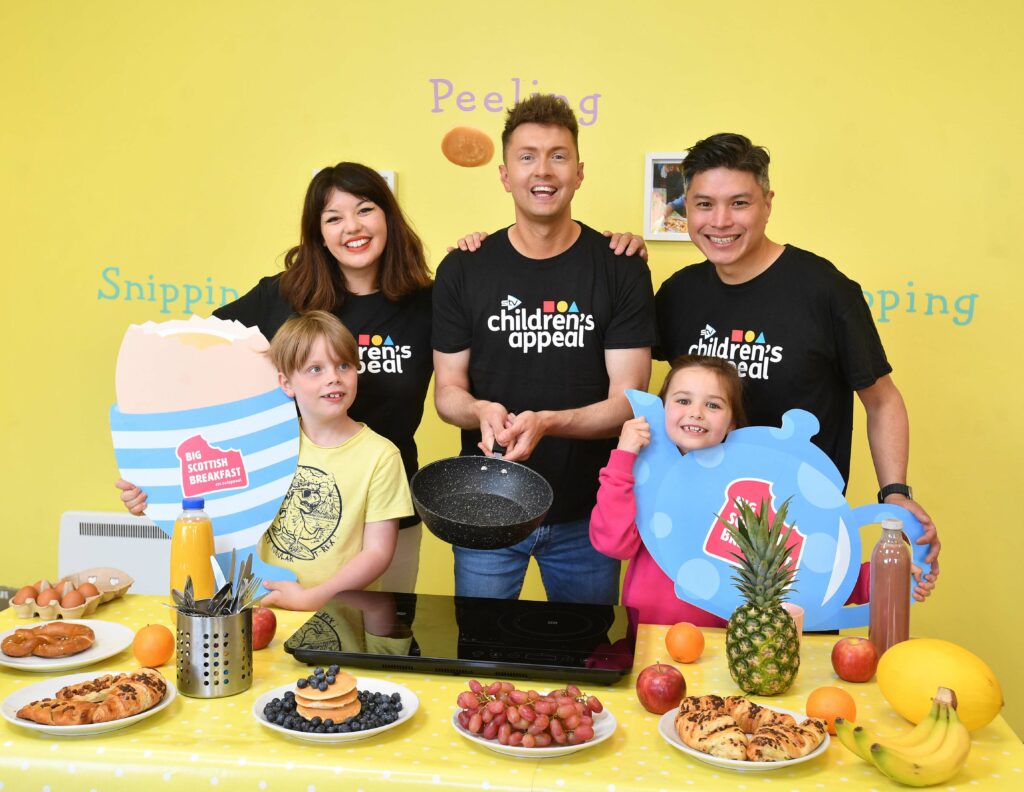 The Big Scottish Breakfast is back!
Glasgow celebrity chefs Julie Lin & Jimmy Lee cooked up their favourite breakfast dishes, judged by our weatherman turned referee Sean Batty and the young chefs at Totnosh in Neilston to help us launch the Big Scottish Breakfast 2023.
To inspire viewers, Julie and Jimmy made their favourite breakfast dishes and asked the young cooks at Totnosh to decide which was the best – with Sean acting as referee.
Julie Lin, the Saturday Kitchen, MasterChef and Hairy Bikers star who runs restaurant GaGa in Partick said: "It boggles my mind that we still have kids going hungry in this country. It's such a basic thing – if you feel nourished, you can go to school and learn; if you're hungry, you just can't."

"It was great to be reunited with Jimmy, and Sean was, as always, a very vibrant, fun soul to be around. We couldn't have asked for a better referee."

"Highlighting issues like child poverty is the number one most important thing I could do. It's so important for people with a platform to use their voice for good. It's sad that it's needed, but also brilliant that the STV Children's Appeal exists and can raise awareness and money for young people in Scotland."

Jimmy who is the Star of Great British Menu and TikTok, who runs Salt and Chilli and Lychee Oriental in Glasgow agreed, saying "It's heartbreaking child poverty still exists. It needs to be eradicated."
Sean Batty added: "Getting your friends, family, colleagues or classmates together to share breakfast may seem like an easy thing to do, but the impact it can have on the lives of children affected by poverty in Scotland is enormous.

"And as delicious as their breakfast treats were, you don't have to be a celebrity chef like Julie or Jimmy – even a few simple bowls of corn flakes will help to make such a difference."
Join us by by hosting your very own Big Scottish Breakfast, taking place this September, or whenever you'd like. All you have to do is gather your friends, family, colleagues or classmates to share breakfast together and raise funds for children affected by poverty. Julie's breakfast dish is bacon fried rice & Jimmy created Chinese rice porridge Congee. You could opt for something special or keep it simple with whatever breakfast you're used to.
Find more information and download our fundraising pack bursting with ideas here.