Over £1.5 million has been granted to children's charities across Scotland through the STV Children's Appeal since the coronavirus crisis began, it was announced today.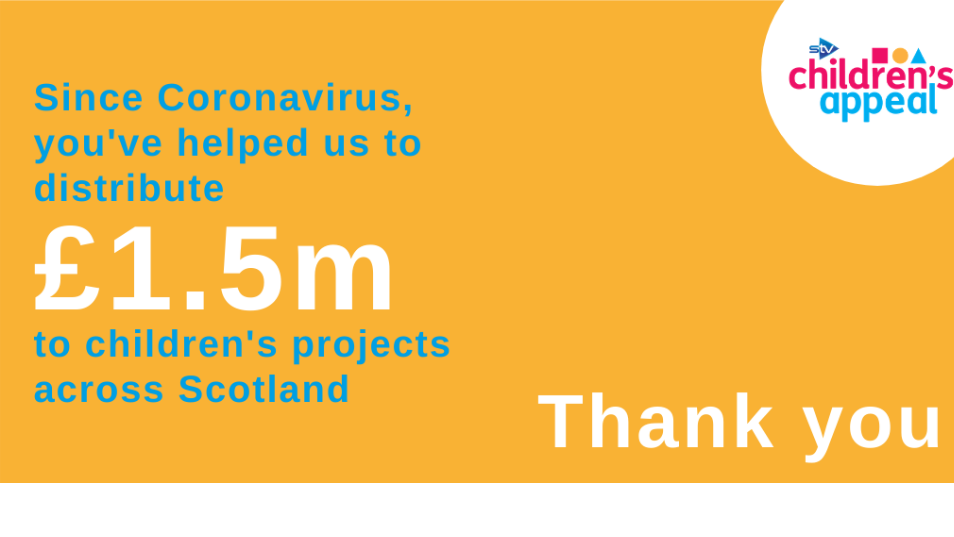 Around £100,000 of this total was donated by the public in just the last two months via the Appeal's Emergency Coronavirus Campaign – with the remainder coming from the 2019 STV Children's Appeal and the Scottish Government's Wellbeing Fund.
In partnership with the National Emergencies Trust (NET), the Appeal launched its Emergency Coronavirus Campaign in April to support the thousands of vulnerable children and young people who have been severely impacted by the COVID-19 outbreak and subsequent national lockdown in Scotland.
The first phase of the campaign – which saw televised appeals by familiar faces Lorraine Kelly and Sean Batty appearing regularly on STV – draws to a close this weekend. Phase two is set to focus more closely on how charities are using the donations from generous Scots to improve the lives of the children they work with, as the Appeal seeks to raise additional funds to help those in need. A new series of TV adverts start airing on Sunday (28 June) on STV.
'Critically important' donation
East Lothian non-profit Heavy Sound is one of the charities that has benefited from the money raised by the Emergency Coronavirus Campaign. The charity works with young people who have experienced trauma or barriers, usually helping them to reengage through musical projects such as songwriting or DJing.
Since the COVID-19 outbreak, however, Heavy Sound has closed its normal projects and is instead providing food and other essential resources to vulnerable youngsters in Edinburgh and East Lothian. The charity received a £2,000 donation from the STV Children's Appeal to help its efforts.
Jordan Butler, Heavy Sound's founder, said: "The support we've received from the STV Children's Appeal has helped us deliver more than 1,000 meals each day to young people and families who've found themselves in urgent need of help since this crisis began.
"Specifically, the donation from the Appeal contributed to the cost of a new vehicle, which was critically important and allowed our staff and volunteers to collect and deliver the food to those who need it across the local area."
Fundraising heroes
Since the Appeal's Emergency Coronavirus Campaign was launched, dozens of Scots have come up with innovative ways of raising money for it, including:
90-year-old Jan Collins from Troon, who set himself a target of completing 1,000 holes of golf in his garden before his 91st birthday – raising over £10,000 in the process
Gerry Long, a postman from Ardrossan, who cheered up local residents during lockdown by dressing up as a different fictional character each day to deliver mail
Retired NHS worker Liz Norrie who, due to lockdown restrictions, used an exercise bike to cycle the equivalent of the Glasgow to Aberdeen west coast route – more than 50 years after she first completed the journey for real
Some of Scotland's most popular music stars have also taken time out to support the campaign, with Annie Lennox, Marti Pellow, KT Tunstall, Amy Macdonald and The Fratellis all performing exclusive online gigs to raise funds as part of the appeal's Songs for Scotland series.
Simon Pitts, Chief Executive of STV and Trustee of the STV Children's Appeal, said: "We knew when we launched this campaign in April that our generous viewers wouldn't hesitate in lending their support to those hit hardest by COVID-19 in Scotland. It's great to see that all of the donations from the past two months, along with the other funds being distributed by the Appeal, are making such a difference.
"Coronavirus continues to have a devastating impact on our local communities though, and it's the one in four children living in poverty in Scotland who are feeling its effects more than most. As we move into the next phase of this campaign, we're committed to raising more vital funds for those in need and, of course, ensuring all donations are distributed as quickly and efficiently as possible."
Readers can support the STV Children's Appeal's Emergency Coronavirus Campaign by texting FIVE or TEN to donate £5 or £10 to 70607.